Santorini, is the perfect romantic medley of archaeological sites, multi-coloured beaches, white washed buildings, famous blue domes, and breathtaking sunsets, and had been on my wish list for so so long. I was so pleased to finally be able to tick off this amazing destination, world famous for its charm and it's head turning natural beauty. It is definitely one of the most beautiful of the Cycladic islands.
When I arrived in Santorini I couldn't stop marvelling at just how postcard perfect it was. It looks EXACTLY how it is shown in photos and it is breathtakingly beautiful no matter where you are on the island. I would go back in a heart beat! I would highly recommend it for a visit and I hope to return soon! It is perfect for couples and families, and especially for a honeymoon or a romantic place to spend an anniversary. It has so much to offer that it would be great with a group of friends too.
Here are my suggestions of the top things to see and do whilst in Santorini:
Visit Oia 
Whenever you see pictures of Santorini, they are almost always likely to be of the picturesque town of Oia, which is the most scenic, beautiful and famous Santorini points of interest. There are a plethora of whitewashed houses on the cliff edge with pops of colour from pink bougainvillea flowers or blue-domed churches, making Oia so gorgeous and romantic. I couldn't stop taking photos here! It was a photographers dream.
It can get really really busy here, especially if a cruise ship has docked on that particular day, and so I highly recommend going to Oia at about 9:00am, especially if you want to take photos, as it will be so much quieter then, as well as slightly cooler, as the afternoon heat can be intense.
It has cute cobbled streets, stylish boutiques and lots jewellery shops, as well as amazing art being sold. I am regretting not picking up a piece now!
There are also lovely restaurants where you can have lunch with a spectacular view, as well as lots of gelato stalls along the way to help refresh you in the Mediterranean heat.
Visit the coolest bookshop in the world whilst in Oia
In the heart of Oia is a bookshop called Atlantis Books. It is definitely one of a kind and as you enter you are met with high piles of titles by well known authors, as well as rare first and second editions of books. It is the best bookstore I have ever been to! Definitely book lover's paradise bursting with charm, music, cats wandering about, and stacks of irresistible literature. If you are a bibliophile, this one is a must!
Watch the Sunset from Oia or Imerovigli
The sunsets in Santorini are just stunning, and my two favourite spots to see them were in Oia, and Immerovigli. Be warned that if you want a decent spot to see the sunset in Oia, you have to be prepared for the hoards of people wishing to do the same and so I highly recommend going super early to get a great vantage point, or pre-booking at one of the bars or restaurants that offer a caldera sunset view.
We grabbed a spot at the bar area at Pelekanos, which is pictured above, and it was such a fantastic place to watch the sky turn all shades of red orange and pink, whilst sipping on delicious Greek wine. They had a fantastic cocktail menu too.
Imerovigli sunsets were equally as beautiful, and slightly calmer than the crowds at Oia. We actually chose to stay in Imerovigli and the sky was just magical there every single evening.
If you are seeing the sunset in Oia, and have travelled by bus, I highly recommend heading to the bus stop super early as there will be a massive queue and might be hard to get on to the first bus! The easiest option is to hire a car and park in Oia, that way you can spend as much time as you desire there.
Wander the streets of Pyrgos
Pyrgos is the largest preserved village on Santorini and the island's former capital. Strategically built in the heart of the pre-volcanic hinterland and at the foot of Mt Profitis Ilias, you can get some amazing panoramic views from here and it is not crowded by tourists.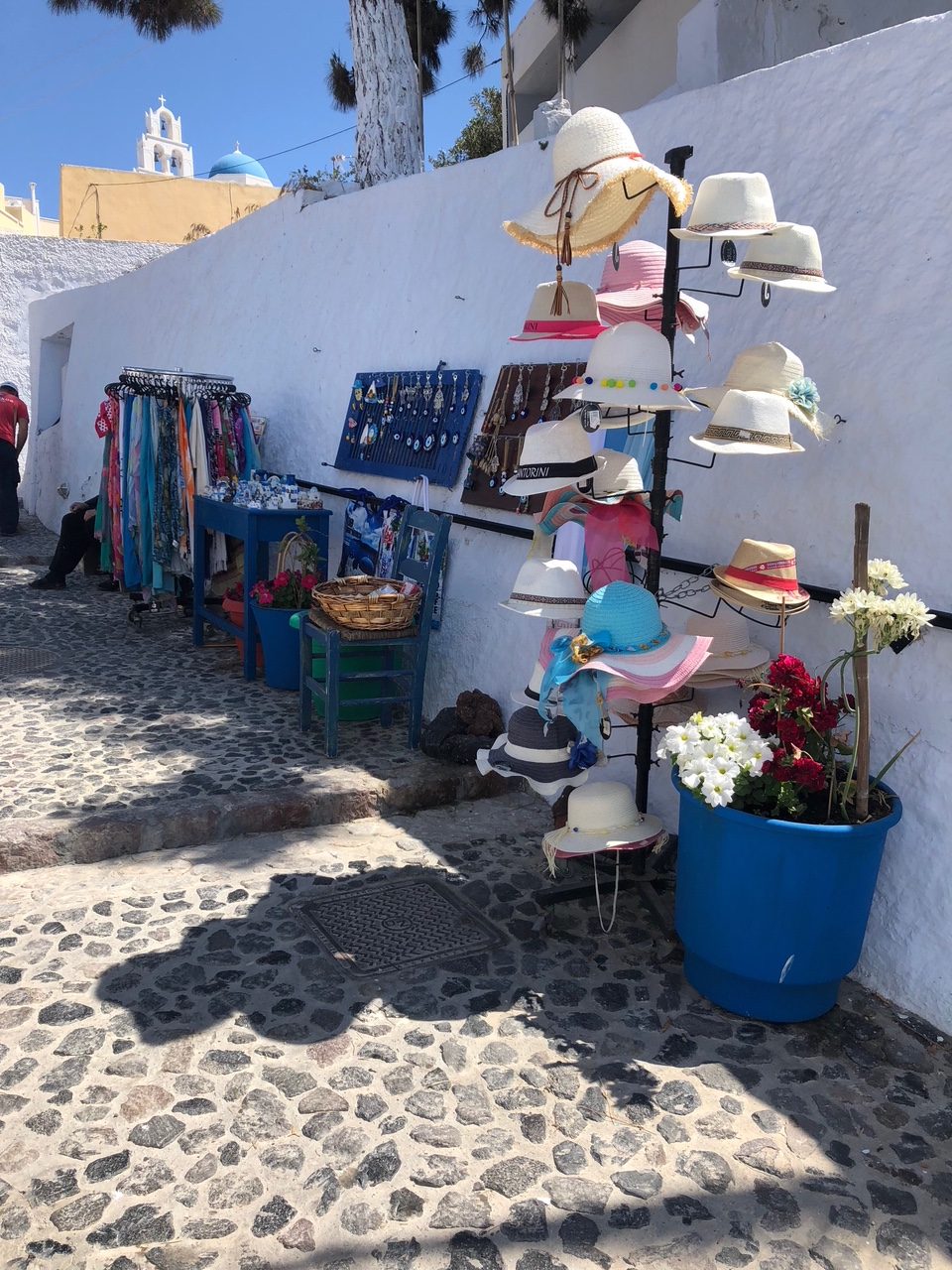 I loved its more charming rustic edges, colourful streets and windy corridors, and the people were ever so lovely here. It is definitely a gem and a lovely side of Santorini to see.
Right at the top, if you head towards "Francos," you will even discover an animal shelter, which I thought was really lovely, as well as various churches, also with blue domes, to see and marvel at.
Hire a car and drive around the island
This is the best way to explore the island and so affordable too! While taking the local bus is a fun experience, it is less frequent and gets very busy and you are slightly restrained by the bus times. Hiring a car is so affordable (we hired a car for approximately £50 for 24 hours) and there is a great variety t0 choose from. You can even hire quad bikes or buggies too.
Armed with a map we were able to go to various points of interest across the island at ease and at our leisure. We picked an open top car so that we could enjoy the breeze, and a quirky colour so we could find our car easily!
Visit the town of Megalochori
Megalochori is one of the most picturesque villages on the island, and it is thought to date back to the 17th century. Here you can find historical mansions, old traditional houses, pirate hideaways and wine canavas. It is where most of the vineyards are located and so a great place to visit before going wine tasting.
Go Wine tasting with a Caldera view
Going wine tasting at Venetsanos Winery, was one of my highlights in Santorini. I just couldn't get over the amazing view of the caldera from the al fresco style seating area, and the tour of the winery was also very interesting. This has a much more intimate feel to it, and while the choices are slightly more limited than some of the bigger wineries, I feel it is definitely much more scenic and I really loved it here.
If you want more choice, Santo Wines is a much larger winery with more to offer in terms of different tours, and different wine pairings. Here we opted for the white wine flight which we paired with a cheese platter. If you love wine and are a bit more of a wine connoisseur I would pick this one, but if you want the phenomenal views I would pick  Venetsanos Winery.
Visit the excavation sites of Akrotiri
The archeological site of Akrotiri is one of the most important Minoan Bronze Age settlements of the Aegean Sea, and visiting the pre-historic site transports visitors back to those ancient times. It is so interesting to see and some of the ruins are really well preserved, such as the storage jars. It takes approximately an hour to go around and I would recommend hiring a guide to explain it all properly.
Visit the Red beach
The red beach is one of the most famous and beautiful beaches of Santorini, and is only a short distance from the ancient site of Akrotiri. The small size of the beach means it can get crowded, so people often choose to admire it from the headland.
There is a car park nearby and the walk only takes a couple of minutes. The contrasting red and black volcanic rocks are really striking to see.
In the car park there are usually fruit vendors selling the most amazing fresh fruit – a great way to rehydrate and refuel as well as supporting small vendors.
Akrotiri Lighthouse
While in Akrotiri, a visit to the Akrotiri lighthouse, which is located on the extreme southwest part of the island, is a must for it is considered to be one of the best and most beautiful lighthouses in Cyclades. Standing on the edge of a high cliff right above the sea, it is a peaceful place, and very romantic, to sit on the rocks and look out at the gorgeous Aegean sea. I found it absolutely entrancing.
It is among the first lighthouses in Greece, and has a significant historical value. It stopped operating during World War II but started again in 1945 with a reconstruction by the Greek Navy. You definitely need decent shoes as it is very rocky and unstable to walk close to it, but it is totally worth it!
Visit Kamari Black Beach
Kamari is a famous beach resort of Santorini situated 10 km southeast of Fira, the island's capital. The beach is covered by black sand while on the left side of the beach is an enormous rock called Mesa Vouno that rises from the sea. The area looks especially amazing at night when the rock shines in the dark.
There are plenty of sun loungers, umbrellas and spaces to relax on along the beach of Kamari, and along the waterfront there are lots of restaurants, bars and cafes.
Visit Amoudi Bay and eat at one of the Tavernas
For amazing views of the caldera, descend the 300 steps from the northern part of Oia to the charming port of Amoudi Bay. It is surrounded by striking red cliffs and dotted with white-washed buildings typical to Santorini, and this little village has several quaint tavernas, which are a must to experience traditional Greek cuisine. The views of the sunset from here are also thought to be amazing but we didn't visit in time for sunset.
Visit monastery of Profitis Ilias and get a panoramic view of the city
The monastery of Profitis Ilias is built on the highest point of the island, 567 metres above sea level, and offers all-encompassing amazing views over the entire island of Santorini. You can try home made produce whilst in the monastery and purchase goods if you wish, however, entrance is free, and the views are spectacular.
Visit the main town of Fira and try a traditonal pie from one of the bakeries
You can't visit Santorini and not visit and not try the traditional Greek pies. My favourite was the Cheese pie from Svoronos Bakery, in Fira, which has a counter filled with amazing sweet and savoury delicacies. Perfect spot for a mid morning break or for a breakfast. The Spinach pie was also to die for!
Fira is the capital of Santorini and a cosmopolitan hub for cultural events, as well as home to many art galleries, museums, bars, cafes, and the biggest shopping centre on the entire island.
Explore the Paths, Alleys, and Stairwells of Imerovigli
Imerovigli is the area in which I was staying in and it was so picturesque with stunning walkways, each offering mind blowing views of the caldera and aegean sea. It is such a pleasant walk, and this is where most of the hotels are located on the caldera's edge, so it almost doesn't matter where you are, you will be rewarded with amazing views!
Visit Skaros Rock
A visit to Skaros Rock rewards you with fantastic views of the volcano and the Mediterranean. It is the remains of an ancient fort, and although there's a fair bit of walking involved to get there, it is totally worth it! It was originally built to protect the coastline from pirates. Although it was left in ruins by a series of powerful earthquakes during the 17th, 18th and 19th centuries, it is now a beautiful tourist site and must-see.
When to go to Santorini?
I highly recommend visiting Santorini just after Easter and before summer starts, as the temperatures are pleasant and it is less packed with tourists.
You can combine your trip with a city break in Athens or fly directly to Thira. I have been to Athens for a city break previously, which you can read about here if you are thinking of combining the two.
Useful Tips
You can fly direct to Santorini from London Gatwick with Easy Jet.
The currency is Euros.
There are a limited number of taxis on the island and they can be unreliable and so I recommend either going around by the local bus, which is really cheap, or by hiring a car. It is really reasonable to hire a car and a really great way to see the island.
Santorini is very hilly and rocky and so I would recommend wearing comfortable walking shoes with a grip, as well as taking a hat, sunscreen and always carrying a bottle of water.
If you want to visit Oia, I recommend checking whether a ship has docked in Santorini and to avoid going on that day if possible as it can get really busy. Instead head there in the morning at around 9 or 10am and you will be enjoy it much more.
If you do want to visit Oia to see the sunset, which is spectacular, be mindful that it will be rammed full of people wishing to do the same so get there early to get a great spot or reserve a table at one of the restaurants or bars which have a sunset view. The buses back from Oia in the evening tend to be totally packed so do head to the bus stop early to queue up or alternatively, hire a car to save you waiting long periods if you can't get on the first bus.
While it is family friendly, there are no all inclusive resorts, and as it is very hilly and there are lots of steps everywhere, factor this in, as in some places it might be difficult to have a pushchair.
  Booking a Tour
Whilst in Santorini, icelolly.com  kindly arranged a tour for me on one of the days called the Santorini Highlights Tour with Wine Tasting, which we started from the bus stop at Fira. It was such a fantastic tour and if you are planning to go to Santorini I highly recommend it. We visited Oia, Pyrgos, Venetsanos Winery and the monastery of Profitis Ilias. I learned so much about Santorini from our guide Costas and it was fabulous! The company that organised the tour was called Argyros Travels.
Have you been to Santorini? What were your highlights? I'd love to know in the comments below xx
SaveSaveSaveSaveSaveSave
SaveSaveSaveSaveSaveSave
SaveSave
SaveSave
SaveSave